Well, my friends...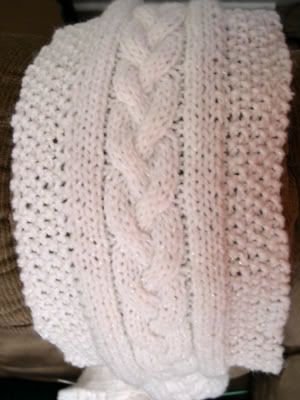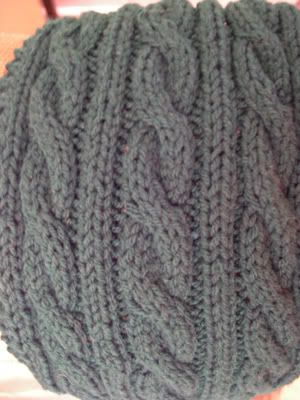 It's almost October, and you know what that means...The knitting is about to begin. Big Time. Not that I haven't been busy with my luscious fiber fun over the summer, mind you. I started on my Christmas present projects in June (I learned from last year), and I have to say the big thing that I have fallen in love with this summer is cables, cables, cables. Here to the upper- right is a close-up of my
Good Ole Cabled Scarf
in Lion Brand Wool-Ease Worsted Weight 80% acrylic-20% wool blend with size 8 US/5.0 mm needles. I saw this yarn at my local craft store, and I flipped out. The photo unfortunately doesn't show it very well, but there are little threads of irredescent tinsel worked into the white! I thought it would be the perfect holiday party scarf. This pattern was a bit more challenging, but was fun all the way until the end. The finished scarf measures about 5.5-6 inches by four feet.
And to the left you will see the close-up from my
Irish Hiking Scarf
. This was my first cabled project. If you have not tried cables yet, I highly recommend this pattern. Cables are ridiculously, decievingly easy. I knitted this in cheap-o worsted Red Heart Acrylic with size 8 US/5.0 mm needles. I generally practice new stitch patterns in acrylic because it doesn't fray or split the way that natural fiber yarns do, and the pattern really pops out. The finished scarf measures about 8 inches by four and a half feet.
Cable patterns that I can't wait to start on:
I absolutely adore
Knitty.com's
new issue. So many challenging and fun patterns! Sometimes the patterns on Knitty are a little too "trendy" for me (or just plain ugly....for isntance,
what the hell is this
), and I refuse to spend the time and money to knit something that will go out of style in three to five years. But this season's issue is full of wonderful classics with a tasteful modern twist. These aren't your gramma's oversized and unflattering aran raglans! I especially love
Blackberry
and
Josephine
. They both manage to use chunky/bulky weight yarn, which knits up super quick, without being completely unflattering and...well...adding a little chunk and bulk to one's figure. It's hard to find a pattern using bulky wool that is still feminine and well-shaped. I'll be interested to see how I do on these... I wonder if they will turn out as well as they look on Knitty.